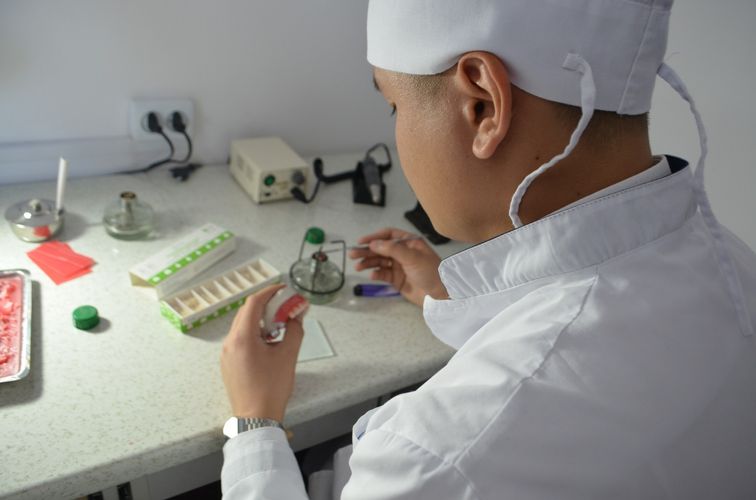 The story of 20-year-old Alisher from Taldykorgan who works in the dental office despite a disability of 3rd degree .
According to the Ministry of Labor and Social Protection, about 690,000 people with disabilities live in Kazakhstan. The problem of their employment has always been an urgent topic. The Law "On Social Protection of Persons with Disabilities in the Republic of Kazakhstan" prescribes the allocation of jobs for people with disabilities, however, not all employers decide to take such a step.
Alisher Tolepbekov is 20 years old, in 2020 he is graduating from the Higher Medical College in the city of Taldykorgan with a degree in dental technics, which he entered 2 years ago. He and his classmates are hearing impaired. Despite this, they undergo successful training in their specialty and preparing to defend their thesis.
«I am hearing impaired of 3rd degree, I spent my childhood in a special boarding school, where I learned to speak, read, write and draw. The love of creativity determined the choice of my first profession - I decided to become a designer», - Alisher tells about himself.
After studying for 3 years at a local college, the young man tried to get a job. But this did not lead to success - employers were not ready to hire a person with a disability.
«Of course, it really affects you morally. I'm the same person as everyone, I have an education ... Yes, there are hearing problems, but this does not stop me from working. How to convince the society that my opportunities are not limited at all?» - shares Alisher.
After a time of futile search for work, he learned that the Public Association "Kazakh Society of the Deaf" has opened recruitment for the specialty "dental technician" at the Higher Medical College. Hearing impaired people with subsequent employment were invited to study. Alisher submitted the documents and he was enrolled.
«We are trained in a special educational program, an interpreter helps us understand the lessons. Thanks to him, we easily comprehend all the intricacies of the profession. Everything was good with our studies, but when it came time to practice, we faced a problem: employers didn't want to accept us in dental centers of the city. But learning a profession, joining it is impossible without gaining practical skills, » - says the young man.
Then the PA "Kazakh Society of the Deaf" decided to create jobs specifically for college students studying in a special group. It was decided to open a dental laboratory in the format of social entrepreneurship and employ all the students there.
In the summer of 2019, an NPO submitted an application for participation in the «Әreket» grant competition from the «Samruk-Kazyna Trust» Social Development Project Foundation and won a grant of 3 million tenge. With these funds, work place was fully equipped, materials and equipment were purchased. The laboratory room was provided by a medical college. The result was a fully equipped office.
«At first, we, of course, were worried, thought: will it work or not? But now all the worries are behind, and we have already gotten several satisfied customers. Success in work gives me confidence in myself, in my abilities in the future. I got a dream job, I really like what I do», - says Alisher Tolepbekov.
Now the laboratory again began to take orders and serve patients. The plans are to open a dental center, so now the creators of the project are saving up all the income earned for additional equipment.
It is possible to earn and simultaneously solve social problems. Rehabilitation, education, and employment of people with disabilities are examples of areas of work for social entrepreneurs. In Kazakhstan, this type of business is still in its infancy, but there are already successful examples. One of them is the dental office in the city of Taldykorgan. Social entrepreneurship has already changed and continues to change the lives of people, including those with disabilities.