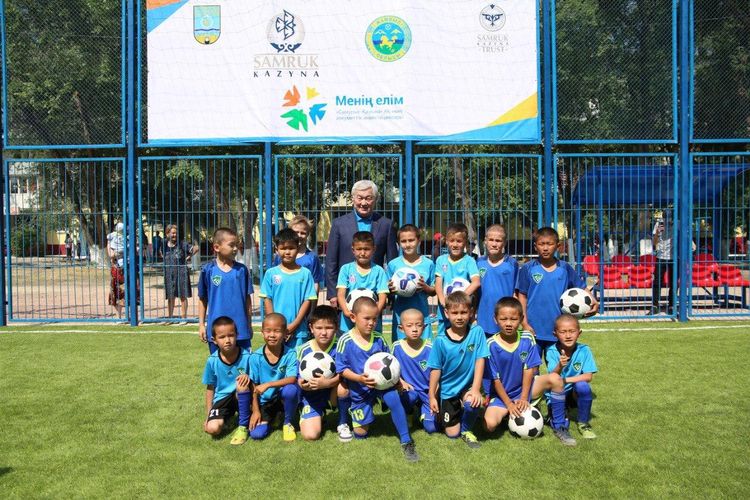 On the international children's day in Zhambyl region, three multi-operated sports and children's playgrounds were opened – in the village of Sarykemer of Baizak district, the village of Masanchi of Korday district and in the microdistrict of Karatau-2 in the city of Taraz. The project to install sports grounds was implemented by the Social projects development Foundation «Samruk-Kazyna Trust» together with the regional akimat.
The new sports and play complexes include several zones – a football field with artificial turf and a grandstand for 30 seats, a workout zone and a play area for children with swings, slides and sandboxes. Benches and trash bins are installed around the perimeter of the site. The area of one such complex is 1300 sq. m.
Mayor of Zhambyl region Berdibek Saparbayev took part in the opening ceremony of the sports playground in Taraz.
- The head of state instructed to develop mass sports in the country among citizens of all ages. To do this, we need to ensure that sports infrastructure is accessible to the population. Today, all conditions for active sports are created in our region. This year, 120 projects are being implemented to update the infrastructure of sports facilities. Healthy children are our future! By instilling in them a love to sports, we will protect them from negative social phenomena. The mission of adults is to protect children, help them and guide them in the right direction, - said Berdibek Saparbayev.
In a conversation with residents, Berdibek Saparbayev urged them to take care of the new playground.
It should be noted that the locations for the installation of platforms are determined by the akimat of Zhambyl region and the «Samruk-Kazyna Trust» Foundation together with the local civil society. The akimat of Zhambyl region provided territories for the installation of platforms, while the «Samruk-Kazyna Trust» Foundation provided full installation of platforms, then they are transferred to the balance of local Executive bodies to ensure their safety and maintain functionality.
- These playgrounds are available for both children and adults, and they are free to visit. The platforms are installed in order to maintain a healthy lifestyle and develop children's mass sports, provide residents of cities and towns with modern sports infrastructure, - said Irgebayev Miras, official representative of the «Samruk-Kazyna Trust».
The mayor's office and the project organizers urge local residents to treat the sports playgrounds carefully, not to break structures and not to litter on the territory.
Recall that the project of installation of multi-operated sports and children's playgrounds is implemented by the «Samruk-Kazyna Trust» Foundation in the framework of the «Menin Elim» social investment Program. The projects of the «Menin Elim» program are aimed at developing social infrastructure and improving the quality of life of people in the regions. In total, since the launch of the project, more than 130 universal sports and playgrounds have been installed throughout the country.