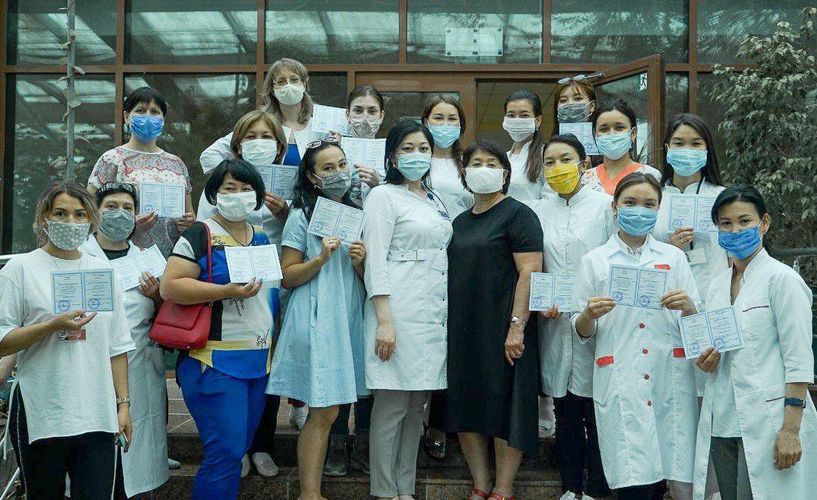 Today, certificates of professional development were awarded to the first 13 medical workers who were trained in the field of speech Therapy. They are among 220 doctors from the country's regions who will be involved in the work of 8 new rehabilitation centers for children with special needs.
The centers will be opened by the end of September 2020 in the cities of Nur-Sultan, Atyrau, Taraz, Ust-Kamenogorsk, Uzynagash, Shymkent and Uralsk.
The opening of rehabilitation centers and training of medical workers is organized by the Corporate Fund "Kamkorlyk" under the Nursultan Nazarbayev Foundation in partnership with the Social projects development Foundation "Samruk-Kazyna Trust" and regional akimats.
In the framework of "Kamkorlyk" program Fund of the First President organizes training of specialists and professional development of rehabilitation specialists to open these centers, while the "Samruk-Kazyna Trust" Foundation on behalf of the group of companies of "Samruk-Kazyna" will provide full facilities and equipment in all locations.
Training of specialists is the most important mission in the organization of the centers, since the need for highly qualified personnel is very high in all regions.
Training of medical workers consists of 2 stages - in Nur-Sultan on the basis of training organizations, and then on the basis of the centers themselves under the guidance of foreign and Kazakh mentors.
Each center will employ up to 29 trained specialists. These are rehabilitation doctors, neurologists, psychologists, speech therapists, speech pathologists, occupational therapists, instructors of medical and physical culture, etc.
A separate center will accept up to 50 children a month and 600 children a year. At the same time, it is planned that about 30% of children will be from rural areas.
In general, the work of 8 rehabilitation centers at medical institutions will contribute to improving the quality of rehabilitation in the country and the general accessibility of those in need to such facilities.