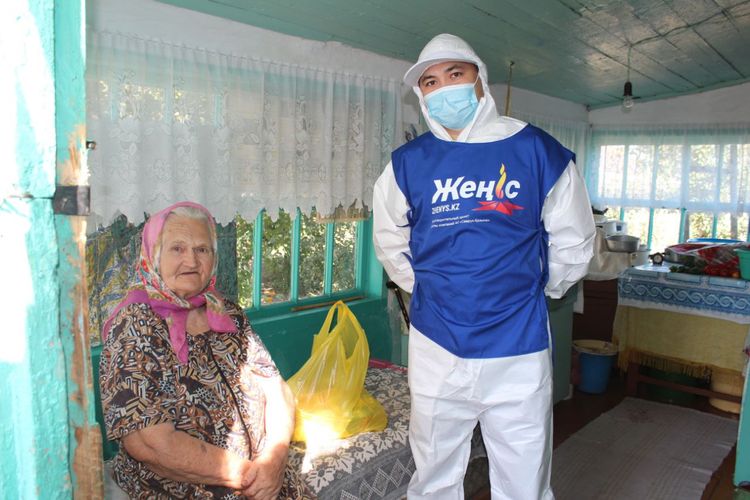 Every weekend the volunteers of the «Zhenis» project gather at a designated place. Coordinator Eugeniy Portugal'skiy assigns responsibilities.
«Today we have to visit four houses. We have one veteran and 3 home front workers. We need to deliver food and clean up the area. Observe safety rules and social distance during your visit, » the volunteer gives instructions.
All week the guys chat in messengers. They discuss new applications, the scope of work, share news. The project has 35 volunteer groups in different cities of Kazakhstan and all their work is aimed at systematic assistance to veterans and home front workers.
The «Zhenis» social and charitable project was created in 2015. It was initiated by the «Samruk-Kazyna Trust» Social Projects Development Foundation.
The volunteers of the project regularly visit veterans living in different cities and provide them with social and domestic support. After all, true care and support is built up from little things, and there is nothing difficult in helping elderly people with household chores: cleaning the house and yard, provide with food or medicine. And also to give them attention, to chat with them while having a cup of tea, to listen to their exciting stories about the past ...
On October 1, Kazakhstan celebrates the Day of the Elderly. On this day, it is the tradition to congratulate grandparents, surrounding them with warmth and attention. It's great when they have large families where they are taken care of. But it also happens that some remain alone in their old age and sometimes there is no one to look after them. Therefore, the significance of the project takes on new meaning.
Volunteers note that every new raid brings new experiences and interesting meetings.
Once, during one of their visits, the volunteers met 98-year-old veteran Anastasia Pavlovna Svetocheva. The guys became interested in her biography, because now, unfortunately, it has become a rarity to communicate with witnesses of the war. And the large number of medals adorning Anastasia Pavlovna's jacket left the whole team impressed.
«We were fascinated by Anastasia Pavlovna. Smiling, kind, she talked with us with great pleasure, talking about her youth, and gave parting words. In these minutes we are even more inspired and appreciate our work. Such stories motivate all volunteers,» says Evgeniy Portuguese.
«I was born and raised in the Kurchum district of the East Kazakhstan region. At the age of 16, I left to study in Leningrad, where I received my secondary education, and then became a student at the textile institute. But the war began,» recalls Anastasia Pavlovna, coordinator of the Zhenis project.
From the first day, the girl was asking to go to the front and was surviving in the city besieged by fascist troops.
«But they didn't take us young girls, they probably felt mercy for us. The boys left with the militia, and all were killed. After the war, when we started looking for each other, only four guys remained from our group,» the woman continues with a trembling voice.
Young girl had to endure everything - bombing, cold, hunger. But in 1942 she managed to volunteer for the war.
«I still think of what helped us survive? Probably, I wanted to protect my hometown, Motherland, live to see Victory,» says Anastasia Pavlovna.
A. Svetocheva was awarded medals «For Military Merit», «For the Defense of Leningrad», «For Victory over Germany». After the war, she graduated from a technical school in Leningrad, received the specialty of a welding master and in 1948 returned to Ust-Kamenogorsk, where she worked until her retirement.
Anastasia Pavlovna has grandchildren and great-grandchildren who visit her from time to time. Unfortunately, the woman has not left the house for several years now, as she has problems with the hip joint, but she does not despair and says that she will still dance.
«I keep in touch with Anastasia Pavlovna, as it is difficult for her to move. We help her with the housework, clean up, if necessary, we can go for groceries,» says Eugeniy Portugal'skiy.
During one of the visits, the volunteers met Anastasia Pavlovna's granddaughters. The girls were so impressed with the project that they decided to join the team of volunteers and take part in the next raids. The woman herself does not get tired of thanking the volunteers from the «Zhenis» project.
«I don't need much - I live modestly, but everything I have is enough for me. The guys give me, first of all, the mood. They come, tell me something, ask me about my life, help around the house. Their mere presence gives joy, as they say, communicating with young people, you become younger yourself,» says the veteran.
In total, this year the volunteers of the «Zhenis» project conducted 1,445 raids, and by the end of the year they plan to increase this number to 4,200. They have taken more than 1,430 veterans under their wing.
«You know, every raid is a story. I am grateful to fate for the opportunity to be a part of the project, work in a well-coordinated team, and meet new people. Elderly people are a special category, and it is a great honor for me to work with them,» concludes Eugeniy Portugal'skiy.
It is worth noting the fact that employees of the enterprises of the «Samruk-Kazyna» JSC group of companies participate in the project as volunteers. All of them gladly responded to the call and came to the project, because they consider it their civic duty to care for the veterans. Today the project has 245 volunteers. But «Zhenis» is open to everyone who wants to become a volunteer and help veterans and home front workers.
During the quarantine period, the volunteers worked in an intensive mode, trying to reach as many veterans as possible with help. They delivered grocery baskets, while observing all safety rules. Now it has become a habit, no one comes to a raid without a mask, gloves and disinfectants.
In addition to volunteer assistance, within the framework of the project, an action is being implemented to provide participants and invalids of the Great Patriotic War, as well as home front workers born no later than December 31, 1935, free travel on trains across Kazakhstan and the CIS countries. To issue a ticket, you must have an original identity document and a certificate of a participant or disabled person of the Second World War or a home front worker. In 2020, 252 tickets were handed over as part of the promotion.
During the 5 years that the «Zhenis» project has existed, a lot has been done. We managed to systematize help to veterans, understand what needs they are experiencing, create and organize the work of volunteers, and much more. Work in this direction does not stop, it will continue in the future, because there is still a lot to be done.