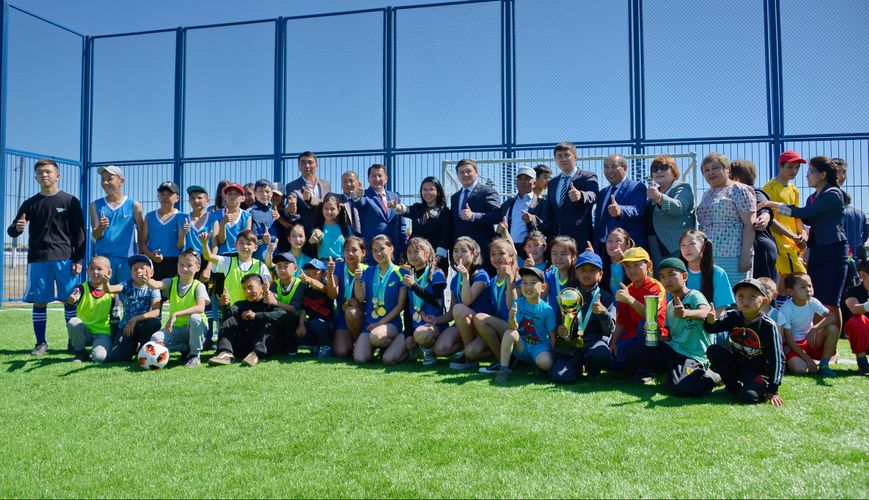 In the Kentubek village , Maysky District, a universal sports playground has opened. Now villagers will be able to spend their free time doing sports.
The universal sports and children's playground consists of three zones - a mini-football field, a playground and a workout zone. The playing fields are covered with artificial lawn, and the children's and exercise zones are made of rubber crumb safety seamless coating - tartan.
Playgrounds are established in order to maintain a healthy lifestyle and the development of children's mass sports, providing residents of cities and towns with modern sports infrastructure.
The new complex in the open air will become the center of gravity for the residents of the village of Kentubek, especially for young people, and will allow them to realize their sports potential. Such a venue can become a venue for both sports and cultural events of not only local, but also regional importance.
Note that after installation, playgrounds are transferred to the balance of local executive bodies to ensure their safety and maintain functionality.
Askhat Oralov, Deputy of akim of Pavlodar region, Assel Shildebayeva, Deputy general director of the Social Development Foundation «Samruk-Kazyna Trust», Marat Aktayev, akim of May district, Marat Aidashev, Head of the Department of Physical Culture and Sports of Pavlodar region, and the representatives of the education department, took part in the opening ceremony of the playground.
"The project of installation of universal playgrounds is being implemented by the Social Development Foundation «Samruk-Kazyna Trust» on behalf of the entire group of companies of «Samruk-Kazyna» JSC within the framework of the Social Investment Program «Menin Elim». The group of companies of «Samruk-Kazyna" JSC unites in itself more than 300 companies and over 300,000 employees throughout Kazakhstan, including in the Pavlodar region. And, being a socially responsible company, «Samruk-Kazyna» JSC implements such significant projects for the population as playgrounds installation. By the end of the year, more than 40 such playgrounds will be installed in almost all regions of Kazakhstan. We hope that here you will be able to spend your free time playing sports, bring your children here and communicate," said Assel Shildebaeva, Deputy Director General of the Social Development Foundation «Samruk-Kazyna Trust», in her speech.
As A.Shildebaeva noted, the Social Development Foundation «Samruk-Kazyna Trust» has long-standing partnerships with Pavlodar region. Thus, in addition to the installation of playgrounds, the "Different-Equal" project is being implemented in the region, aimed at the development of inclusive education. Within the framework of this project, the Resource Center for Inclusive Education in Pavlodar and the Office of Psychological and Pedagogical Correction for children with special needs in Ekibastuz were opened.