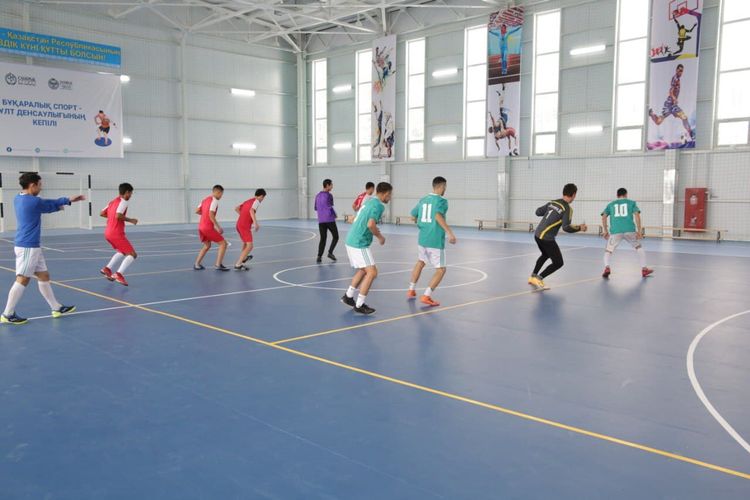 On the eve of the celebration of the Independence Day, a new sports and recreation complex was opened in the village of Alzhan-ana in the Kordai district of the Zhambyl region. Several sports sections will work here at once, such as mini-football, volleyball, basketball, freestyle wrestling, boxing, taekwondo and judo.
Funds for the construction of a sports complex with an area of more than 1400 sq. meters were allocated by «Samruk-Kazyna Trust» Social Development Foundation within the framework of the Social Investment Program of JSC «Samruk-Kazyna» - «Menin Elim». The sports complex will host various sports events, province and regional competitions, as well as training camps. The complex includes a large arena, a versatile hall, a boxing and wrestling hall and 4 changing rooms.
«The head of state pays great attention to the development of mass sports. In our region, 13 sports and recreation complexes are being built, of which four are in the villages of the Kordai region. The opening of a new sports complex in the village of Alzhan-ana will contribute to the formation of a commitment to a healthy lifestyle. I am glad that now rural boys and girls, and everyone else will be able to seriously engage in their favorite sports, close to home, without wasting time and money on a trip to the regional center,» said Berdibek Saparbayev, congratulating the villagers on the momentous event.
Also, the opening ceremony of the sports complex was attended by a native of local places, the world champion in professional boxing according to the IBA version, the champion of Asia, the repeated champion of Kazakhstan Marat Mazimbayev expressed the hope that in the near future Olympic and world champions will emerge from the walls of this beautiful complex, in whose honor there will be to sound the anthem of independent Kazakhstan.
All gyms are equipped with inventory and equipment, including a boxing ring, wrestling mats and blankets, pears and other exercise equipment purchased. 120 students of the local Children and Youth Sports School will train here together with 6 coaches.
It is worth noting that the building is equipped with ramps and special toilets, making it accessible to people with disabilities. In addition, there is a medical office equipped with medicines for first aid.
This is not the first project implemented by the «Samruk-Kazyna Trust» Social Projects Development Foundation in the Zhambyl region. So, in 2020, three universal sports grounds were opened in the region. In the Kordai region, it is expected to open the Office of psychological and pedagogical support and the Resource Center for children with special educational needs. In addition, a rehabilitation center and an Inclusion Support Cabinet for children with disabilities will soon open in Taraz within the framework of the Elbasy «Kamkorlyk» initiative.