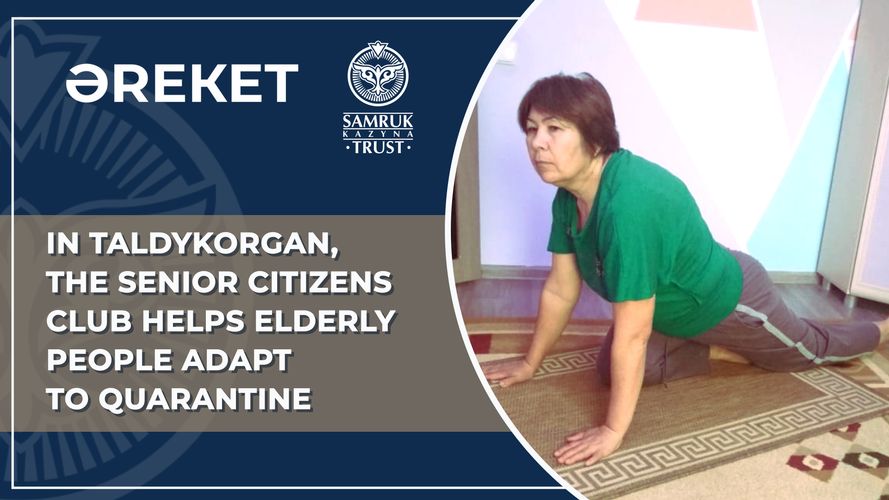 Pensioners from Taldykorgan switched to online mode. They now learned how to pay for purchases online, chats in messengers replaced chatting on the benches outside – and even sports are now strictly online.
The «Dostar» Senior Citizens Club opened in the fall of 2019, thanks to the winning of its initiator - the Taldykorgan Regional Employment Promotion Fund, in the «Әreket» social entrepreneurship development project. Then the Fund received a grant in the amount of 3,000,000 tenge from the «Samruk-Kazyna Trust» Social Development Foundation.
The activities of the «Dostar» Club are aimed at organizing leisure activities for elderly people. Its participants are engaged in fitness, yoga, Nordic walking, study computer literacy.
Here women from 50 to 80 years old are training. Some of them - women from socially vulnerable groups of the population are training in the club for free, while others visit paid groups. А month of classes costs 6,000 tenge. All programs were specially adapted for elderly people: the allowable load was developed, specially trained trainers who know the specifics of aged people are engaged.
When the state of emergency was declared in the country due to the coronavirus pandemic, the club quickly adapted to new realities and switched to online work. Almost all of its participants learned to use new applications for video communication and continued their studies in the usual mode, though each from their own home.
Rafiya Galiullina is 62 years old, she worked for many years as a senior accountant at a local dairy. With her retirement, her activity did not decrease, but now, according to the woman herself, she devotes more time to her favorite activities. Rafia Mazhitovna takes care of her garden, reads, and has recently been fond of Nordic walking and yoga.
подтянулось тело, даже поменялось мировоззрение», - рассказывает Рафия Мажитовна.
"We started Nordic walking in the fall of 2019. We did not just keep fit, we met new people, received communication. In winter, I decided to do yoga. Thanks to modern technology, with the advent of quarantine, we did not stop classes, but switched to online mode - it is very convenient. Since I got into the club, the quality of my life has certainly improved. I began to feel much better, my health improved, my body tightened, my worldview even changed," says Rafia Mazhitovna.
«Dostar» Club is an example of social entrepreneurship when a non-profit organization can solve a social problem through an entrepreneurial approach.
"With our project, we solve the problem of employment and leisure of older people. They are happy to attend classes, improve their health in this way, but most importantly, they get communication with each other. About 40 people visit our club, some come from nearby villages. The income that the club receives from paid groups goes to the purchase of additional equipment," says Svetlana Saduakasova, director of the «Taldykorgan Regional Employment Promotion Fund» PF.
After quarantine, the club will work as usual, and for now, observing security measures, it has organized its own chat in the messenger, where participants maintain communication, share tips, show DIY crafts. Many club members even opened bank cards and learned how to make online payments so they won't leave their homes.