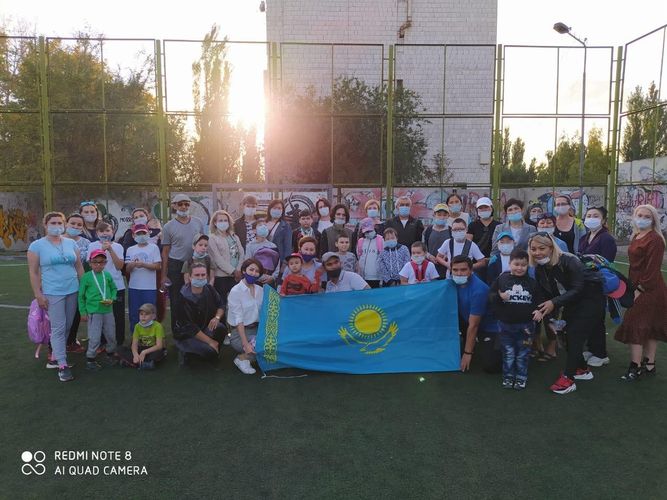 In Pavlodar, within the framework of the «Salamatty Bolashak» project, sections of adaptive physical culture have been launched. Now little Pavlodar residents with diagnoses such as cerebral palsy, autism, Down's syndrome, mental retardation will be able to attend classes on adaptive football, adaptive swimming, choreography and boccia for free.
The «Salamatty Bolashak» project began its work in 2017 in Nur-Sultan. It is initiated by the «World of Equal Opportunities» Public Foundation. The main goal of the project is the development of adaptive physical culture and sports in the country, the creation of a network of adaptive sports clubs for children with disabilities and children from low-income families.
«Regular sports activities have helped the children from Nur-Sultan to improve their communication, speech, motor skills, coordination and intellectual abilities. Access to sports should be equal for all children, and this is possible when all interested parties are united: the parental community, the state and partners,» said the director of the foundation Nurgul Ulzhekova.
Adaptive swimming groups, each of which has 8 children, are engaged in the «Shymyr» pool. The group of adaptive football plays on the football field at 2 Lunacharskogo str., and with the onset of cold weather, the players will continue their classes in gyms. Another 10 children will be engaged in inclusive choreography in the dance studio «Inside».
Also, as part of the opening, a new type of sport was presented - boccia, which can be played by children of all categories of disabilities, as well as ordinary children. After the boccia master class, the coaches received teaching tutorials on adaptive sports for children with disabilities and a textbook on adaptive physical culture.
«I am raising a special child alone. My 12-year-old son Stepan has autism. Thanks to this project, my son got the opportunity to play sports free of charge. We signed up for the adaptive swimming section and started training in early September. So far we have started to practice on land, and from next week the classes will begin in the pool,» says a resident of Pavlodar Galina Alekseenko.
The implementation of the project became possible thanks to the support of the General Partner - the «Samruk-Kazyna Trust» Social Projects Development Foundation. The Foundation actively supports the project, helping to develop adaptive sections and equipping them with the necessary sports equipment, and also allows coaches to improve their qualifications in adaptive physical culture and sports for free.
The social partners of the project are the «Nur Otan» party within the framework of the «Kedergisiz Keleshek - Future without Barriers» party project, the «World Without Borders» NGO, the «Inside» dance studio in Pavlodar and local executive bodies, thanks to which support is provided in the provision of sports grounds.
Similar sections, except for Pavlodar, have already opened in the Karaganda region. Shymkent, Almaty, Aktobe and Kokshetau will soon join the project.