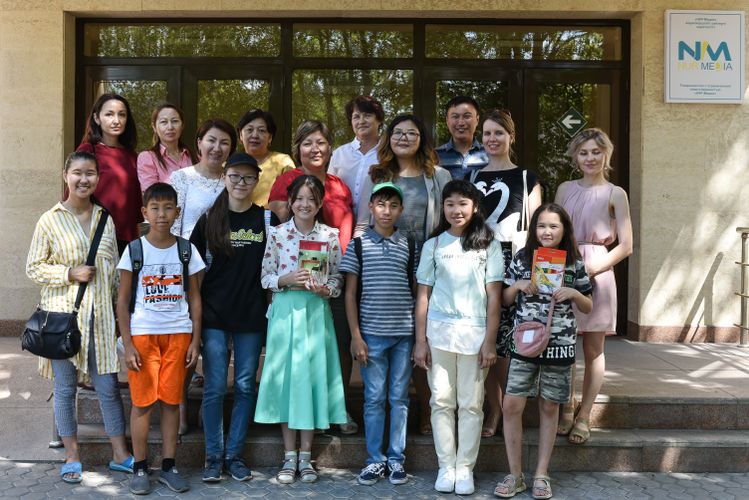 The School of Journalism opened in Nur-Sultan in July, where learning classes are organized for children from socially vulnerable segments of the population. Here, children attend master classes that cover a variety of topics – from writing news to the basics of blogging.
The program of the course also includes excursions to the newspaper editorial offices, television and radio studios.
They visited the editorial board of one of the oldest newspapers in «Kazakhstan Temirzholshysy» on Friday. The newspaper "Kazakhstan Temirzholshysy" has its history since 1931, at that time it was called "Turksib" and its first editor was a railway engineer Makai Dzhunusov.
The children were welcomed by the Chief Editor of the newspaper- Dina Muzdubayeva. She spoke about how newspapers are created, what materials are being placed, introduced the guys to journalists, layout designers and a photographer. In total, 30 employees work in "Kazakhstan Temirzholshysy", of which 15 people are regional correspondents.
Correspondents of the newspaper Ruslan Rakhmetov and Rayhan Rakhmetova shared with the kids living hacks, which they use in their work, told what qualities a journalist should possess and how to learn to write interesting articles.
Layout designer Aliya Turmakhanova showed how a newspaper is made up, text is placed, photos are processed.
The photographer of the newspaper, Alexander Zhabchuk, discovered the world of photojournalism for children, explained how to build a frame correctly, how to carry out portrait photography, showed with the example of his work what perspective is, showed what the camera consists of.
Young journalists were delighted with the tour.
"Today we saw how the editorial work is organized. Each of the employees here contributes to the work- journalists write materials, the photographer takes beautiful pictures, the proofreader reads the news so that there are no mistakes, the layout designer collects materials approved by the rector and forms a newspaper. It was very interesting. I used to read newspapers, but did not know that such a hard work was behind its creation, "Ziyada Ramazanova, a member of the School of Journalism, shared her impressions.
There are still many lessons ahead for the guys in which they will learn the basics of journalistic skills.