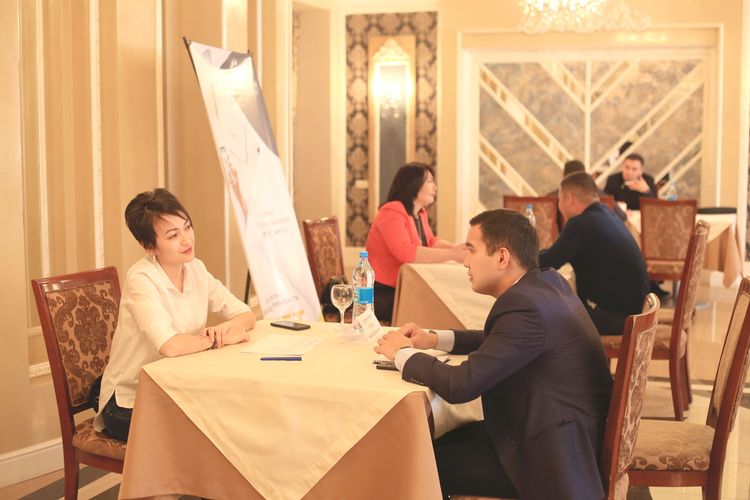 From February 22 to March 2, 2019, series of networking events for social entrepreneurs-participants of the program «ӘREKET» was held in eight regions of Kazakhstan.
In Pavlodar, Kokshetau, Kyzylorda, Atyrau, Aktobe, Uralsk, Aktau and Shymkent, representatives of non-profit organizations, business sphere, local executive bodies discussed important issues related to the development of social entrepreneurship.
During the event, social entrepreneurs received practical recommendations and advice on problematic issues from business coaches on the launch and development of their projects.
One of the important topics of discussion was to attract customers who could provide paid services. As a rule, NGOs are used to provide services to the population free of charge. However, as noted by the community members, times are changing, and one of the requirements of today, financial sustainability of organizations.
In addition, the presentation of the final grant competition, which will be held among the grantees of «ӘREKET» in July 2019, was held within the framework of the event. This competition provides an opportunity to receive an additional grant in the amount of 1 000 000 tenge for the further development of your social project.
The event was attended by leading business consultants, representatives of NGOs and The social projects development fund «Samruk-Kazyna Trust».
«I would like to Express my gratitude to the project «ӘREKET» for raising the issue of social entrepreneurship development in the regions. What we earn by solving social problems of society gives us such an advantage that traditional business will not give. But it is necessary to develop, implement and learn how to use it», - said during one of the networking sessions the project participant, Chairman of NGO «Nur» Gennady Frank.
«Today we say that it is time for non-profit organizations to switch to social entrepreneurship. And the program «ӘREKET» does just that. Gradually, we teach NGOs how to earn money, become financially stable and independently provide themselves with funds. We have already seen some successes of NGOs with which we have been working: they are changing their thinking and opening new opportunities to support their public organizations», - said Miras Irgebayev, Director of the corporate communications Department of the Samruk - Kazyna Trust Fund.
The program «ӘREKET» is implemented by the Fund «Samruk-Kazyna Trust» and is aimed at the development of social entrepreneurship in the regions. In 2018, it was launched in a pilot mode in Akmola, Aktobe, Atyrau, West Kazakhstan, Mangistau, Kyzylorda, Pavlodar, Turkestan regions and in the city of Shymkent. As a result of the program, 96 brightest and most interesting business ideas received funding in the amount of 500 000 tenge.