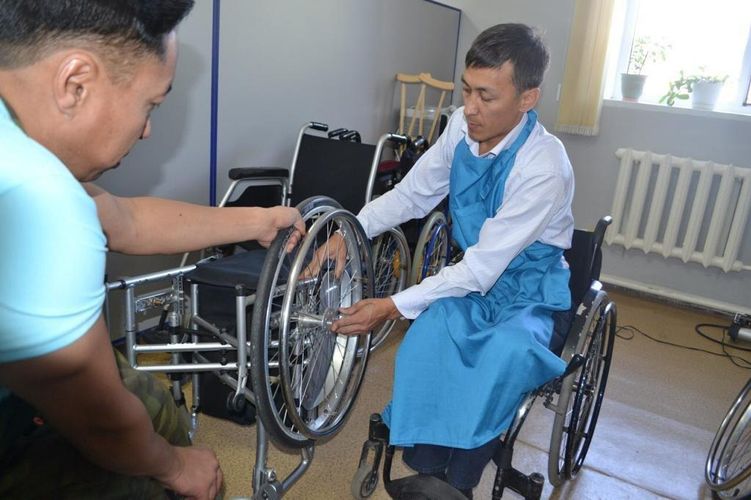 In Kazakhstan, social entrepreneurs help people with disabilities find jobs. Thanks to the «Әreket» project, more than 60 people with special needs were able to find employment and socialize in society.
The problem of employment of people with disabilities is probably one of the most pressing. And here many variables intersect: an untrained system of higher and professional education, the lack of necessary infrastructure, an accessible environment, the reluctance of employers to take responsibility for the life and health of "special employees", an uninformed society.
According to the Ministry of labor and social protection of the population of the Republic of Kazakhstan, there are about 680,000 people with disabilities in our country, more than 61.5% of them are of working age, but only a small number are employed.
Public non-profit organizations play a key role in finding employment for people with special needs. They create special projects, prepare the necessary base, train and socialize their wards.
«Unfortunately, people with disabilities are often dependent on circumstances. Due to the lack of ramps, elevators, sign language interpreters and other necessary conditions, many people are forced to self-isolate themselves and close themselves off from society. But they have the same potential, and most of them want to work and be free in financial terms,» -says the official representative of the Foundation for the development of social projects «Samruk-Kazyna Trust» Miras Irgebayev.
In 2019, the «Samruk-Kazyna Trust» Foundation launched the second season of the project to support social entrepreneurship «Әreket». Its goal is to help Kazakhstan's non-profit organizations move to the format of social entrepreneurship. According to the results of the Competition, 25 organizations won grants in the amount of up to 3 million tenge. At the same time, 10 projects of them were aimed at employment of people with disabilities.
Thanks to grants, various projects were launched or expanded in different regions: a mushroom farm, sewing workshops, a wheelchair repair office, a service station, a dental laboratory, and even the production of kits for the development of children's speech. As a result, more than 60 people with disabilities were employed.
So, the PA «Eco-Atameken» from Kentau decided to create a «mushroom startup» and opened a small greenhouse for growing oyster mushrooms. In a small room, several racks were placed with containers containing fungal spores. To take care of the mushrooms, you needed extra strength. The head of the Association Gulnara Niyazova invited two young people to work. Both of them have hearing disorders, and one of them has vision problems. However, this does not affect their effectiveness as employees at all.
«We have trained them in all the subtleties of work. In the course of training, we were helped by a sign language interpreter, the mother of one of the guys. They quickly learned the material and are very fond of their work. Both are responsible and executive. The main thing is that they get paid, help their families and feel like full members of society, » says Gulnara Niyazova.
The participants of another project are people with musculoskeletal disorders and neuropsychiatric diseases, who also found work thanks to the project «Әreket». To be precise, the youth society of the disabled from the city of Taraz became the owner of the grant and used this money to strengthen the material and technical base. This, in turn, allowed them to train and employ 15 people with disabilities.
All of them produce souvenirs, which are sold in the «shop on wheels». The money received from the sale of souvenirs is used to pay wages and purchase necessary materials for work.
«Of course, when people with disabilities get a job, their lives change a lot. They earn money, they have friends with whom they can talk about various topics. They realize their value and significance in society and stop being «invisible». Based on the example of our employees, I can say that this gives them an additional incentive, motivates them to develop and improve their skills, » - said the coordinator of the project «Shop on wheels» Halba Zhailibekova.
«Social entrepreneurship is remarkable in that it, first, solves a social problem, and secondly, helps non-profit organizations to find financial stability. As we can see from these examples, this approach has a positive impact not only on the development of non-profits, but also on society as a whole. It becomes more loyal, more informed, and there is an understanding that people with disabilities can provide quality services and be useful in society, » Miras Irgebayev emphasizes.
We remind that the project «Әreket» is implemented by the Foundation «Samruk-Kazyna Trust» on behalf of the entire group of companies of JSC «Samruk-Kazyna». The main goal of the project is to develop a culture of social entrepreneurship among non-profit organizations in Kazakhstan, teach them business skills and solve social problems through an entrepreneurial approach.