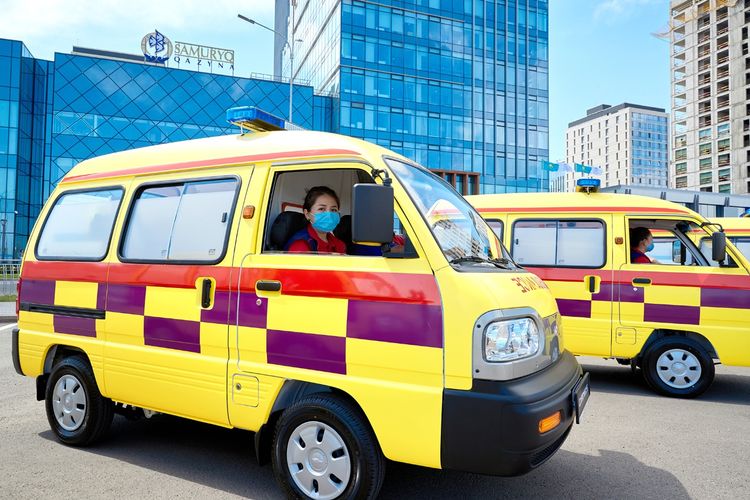 The Social Projects Development Foundation «Samruk-Kazyna Trust» has equipped regional medical institutions with vital medical devices: ventilators, oxygen concentrators, and pulse oximeters.
According to health workers, the listed equipment has a significant demand to provide emergency care to patients with coronavirus infection and pneumonia.
As part of the Memorandum of cooperation between «Samruk-Kazyna» JSC and the Ministry of Health of the Republic of Kazakhstan, 2,050 units of equipment and 100 ambulances were purchased. All this is distributed among the regions according to information received from the Ministry of Health and requests from local Executive bodies.
«To assist in the expected new wave of coronavirus infection and facilitate the work of our doctors, the country's medical institutions are provided with the necessary equipment. Now doctors have additional resources to prevent new outbreaks of the disease,» said Miras Irgebayev, an official representative of the «Samruk-Kazyna Trust».
In turn, the Director of the West Kazakhstan regional multi-specialty hospital Arman Baideuov notes that the assistance provided by «Samruk-Kazyna» JSC and the «Samruk-Kazyna Trust Fund» is timely:
«The new equipment has become a good reinforcement for the regional multi-specialty hospital in the fight against coronavirus. During the emergency and quarantine period, 1,600-1,700 people were treated and discharged from the infectious diseases Department of the hospital. We hope that together we will be able to thoroughly prepare for the second wave of the disease, which experts are already talking about. In addition, these devices will help our patients with other diseases who also need additional equipment in the treatment of diseases».
It should be noted that in March of this year, the Ministry of Labor and Social Protection of the Population, the Ministry of Health, as well as the Ministry of Internal Affairs purchased and sewed protective masks at the expense of funds allocated by the Fund for 450 million tenge.
Meanwhile, the Foundation helped purchase the AutoMag-96 device, thereby increasing the productivity of the PCR laboratory of the national scientific medical center clinic, which provides services to clinics in Nur-Sultan.
As part of the Fund's cooperation with the Ministry of health, 100 ambulances, 1000 oxygen concentrators, 50 artificial lung ventilation devices, 1000 pulse oximeters and 3000 Avifavir antiviral drugs were purchased at the company's expense.