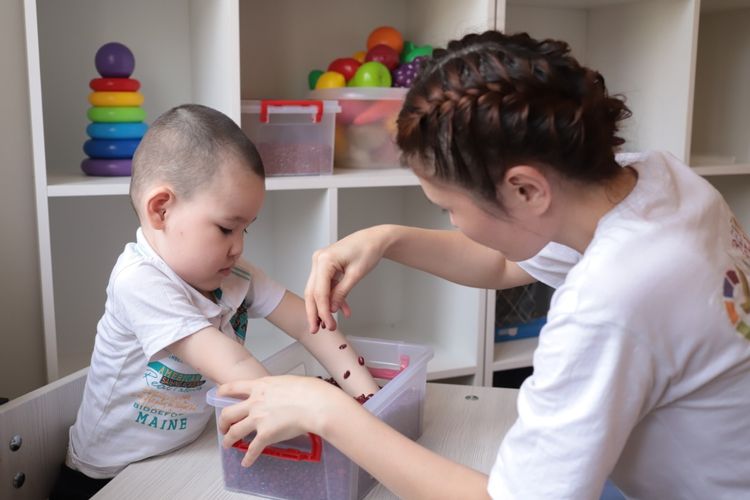 Sagynysh Bagitzhanova – 9 years old. She goes to school, communicates with peers, she, like any child, has her own hobbies: she loves to draw, listen to music, collect puzzles. Observing her at school and at home, no one would think that Sagynysh is a «special» child.
Even in early childhood, her parents noticed that the baby was not like everyone else: she had problems with speech, she lagged behind her peers in development and went to visit doctors. After the examination, the doctors diagnosed her with autism.
But the girl's parents did not give up, on the contrary, began to study information about autism, searched for materials, and read special literature. They wanted to understand how they could help their child.
Our daughter went to kindergarten, and then she was supposed to go to school, but we began to notice that she had certain barriers to getting an education. We were worried about how classmates would perceive our unusual daughter, and how to help her get an education on an equal basis with everyone else,» says Arailym Bagitzhanovna, Sagynysh's mother.
Then Arailym came up with the idea to create the Public Association «Bolashak Atyrau Inclusion», and then - an inclusive support class, in which children with mental disabilities could study. Such classes exist in Kazakhstan and are of great benefit to the children who attend them. But the problem is that there are not many of them, and there are more and more children in need of a special approach to teaching.
Having defined a clear direction, Arailym Bagitzhanovna began to study in detail the examples and models of such classes - what kind of specialists should work there, what teaching aids and equipment are used during training, what standards such institutions work according to.
«I myself am a teacher by education, so it was easy for me to delve into the process. I paid attention to specialization because I wanted to bring real help to the same children as my daughter,» she says.
3 years ago, Sagynysh, together with her peers - children with special needs - for the first time crossed the threshold of an inclusive class at school №6 named after M. Monkeuly, which was discovered thanks to the efforts of her mother - Arailym. Here the children had the opportunity to study in a class under the guidance of a tutor and to develop further. It was a great joy for parents raising special children.
A little later, the same classes were opened in school-gymnasium №3 and secondary school №24 in Atyrau. Today, in each of these schools, 10 «special» children are trained accompanied by a special specialist, on a par with normotypical children.
But the young mother of a «special» child decided not to stop there. It was necessary to develop a non-profit organization, to look for funds to support the classes. And then Arailym Bagitzhanova began to study social entrepreneurship. She began to study in various organizations, gradually accumulating knowledge and experience, and in 2019, when she heard about the Competition for grants for the development of social entrepreneurship «Әreket», she decided to take part in it.
«I wanted to discover new opportunities. I never get tired of studying and never miss an opportunity to improve my competence in a particular issue. Having learned about social entrepreneurship, I thought: «Why not?» and decided to participate. Out of 290 applications submitted, 25 organizations received grants and ours was among them,» says the head of the NCO «Inclusion Bolashak Atyrau».
The «Әreket» project is not only a grant competition. This is a real incubator for aspiring social entrepreneurs. Participants selected by the commission undergo intensive training, which includes trainings and webinars by experts in social entrepreneurship, business, finance, marketing and PR.
And after the training, non-profit organizations will present their projects to the jury, which determines the winners.
«For me, participation in «Әreket» was an impetus for new opportunities and development. I strengthened my project, improved the mechanisms of its work, understood what gaps exist in the work. And I am very grateful to the «Samruk-Kazyna Trust» for supporting our initiative, I believe that special attention should be paid to the education of special children in Kazakhstan, » says Arailym.
As a result, a unique children's development center «Zeyin Atyrau» was opened in the city of Atyrau, dedicated to the complex development of children with mental and speech retardation, autism, paralysis, Down syndrome. The center is served by specialists such as an ABA therapist, speech therapist-defectologist, exercise therapy. It also provides for the development of children with special needs through art therapy, music therapy, play therapy, fairytale therapy.
«I know well the needs of every parent who comes to our center. That is why in our center today about 30 special children develop monthly and show excellent results. The main goal is to familiarize children with special needs, adaptation to the social environment, development of attention, thinking, speech. There is no greater happiness for us than grateful parents,» says Arailym Bagitzhanovna.
ther of Madiyar, whose diagnosis is mental retardation and autism, shares her impressions:
At first, my son Madiyar could not speak, look into the eyes, he was «in his own world». Ten months after we started going to the «Zeyin Atyrau» Development Center, the child began to speak. This is a huge achievement for us. At the same time, special attention is paid here to parents of special children: specialists share recommendations that help to provide assistance to a child at home,» she notes.
And this is not an only example. Each child who has learned to speak, communicate with parents and other children is a complex of efforts of the center's specialists and, of course, the continuous work and faith of moms and dads.
And Sagynysh Bagitzhanova is studying now in 2nd grade, together with normotypical children and pleases her relatives with her achievements. That is, a child with special needs may well adapt and integrate into society, for this you only need to build the right work, and work in tandem with specialists.
Today, NCO "Bolashak Atyrau Inclusion" expands the activities of the Center for the Development of Special Children «Zeyin Atyrau». The center has switched to remote work with «special» children and is achieving good results.
Also in the new academic year, the Public Association began to create conditions for the education of children with special educational needs in remote areas of the Atyrau region. An inclusive support class has already opened in Indersky District. Later, it is planned to open inclusive support classes in other areas.